Experience six extraordinary months in your fifth year of secondary education
Trade your classroom for a traditional sailing vessel and foreign countries!
Explore nature and interesting cultures in your lessons and on site!
Follow the traces of great discoverers like Alexander von Humboldt and Christopher Columbus and experience adventures first-hand!
KUS is a project conducted by Dr. Ruth Merk and run by the University of Erlangen-Nuremberg involving the Institute of Pedagogics and the Institute of Innovation in Learning.
The Bavarian State Ministry of Education and Culture has put "KUS" on a par with attending a school abroad.
Summerschool under Sail – A somewhat different approach to holidays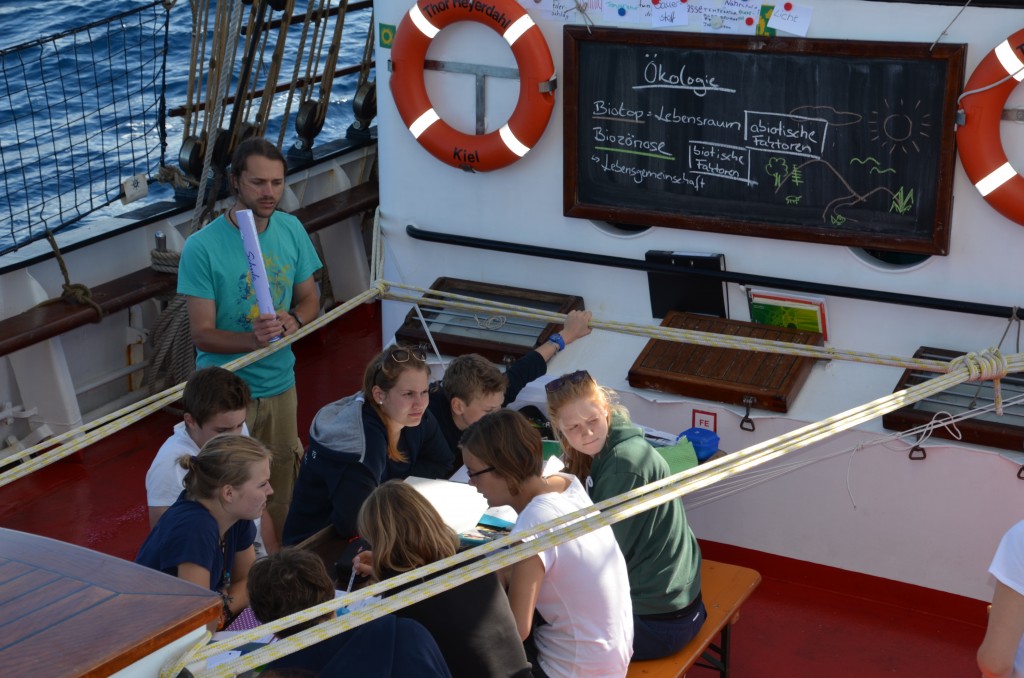 Students from grade 8 on can spend three weeks of their summer holidays on the three-masted topsail schooner "Thor Heyerdahl". They get to know the everyday life on a tall ship, have daily English lessons and make excursions of several days on rubber dinghies and by foot, in Norway and England. Sailing skills are not a requirement and the language spoken on board is English.
The main goals of the voyage are to promote personal and social skills through experience and adventure, as well as English language skills. Summerschool is considered a contribution to a holistic education for young people. Living and learning take place in nature – at sea, on board the ship, and on shore.
Summerschool is a place to
have fun as a community
learn not just for school but for life
gain the confidence to speak English.
Dr. Ruth Merk, who is with the University of Erlangen-Nuremberg, developed the pedagogic concept and leads the voyages. Summerschool developed from the educational project "Classroom under Sail" and it is organized by the Segelschiff Thor Heyerdahl gGmbH.