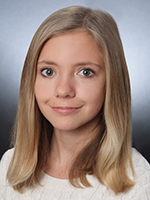 The first tribe we visited on our sailing trip were the Cunas. They have a really interesting culture and they mostly live all around the San Blas islands, even though some live in Panama City and the region. The first time we met them was really funny.
After Grenada we went to the San Blas island Nalunega, where the Cunas live. They are living in houses made of palm-leaves and wood, cook with fire and sleep in hammocks which is very different to what we know. They also have really special clothes, especially the women. They wear beautiful blouses with a Mola on it. A Mola is a traditional handicraft of the Cunas, which they sew by using many layers of textile and when a Mola is ready there are animals or other typical motives on it. Another part of their dress code is a red skirt, which they wear like a wrap-over skirt. The men's dress code is normal as in other countries, they wear jeans and shirts. They have to import everything they need to live, like food, clothes, cosmetics or other things, because coconut is the only thing which grows naturally on these islands.
The first time we met some Cunas was on our sailing ship because they wanted to sell their traditional Molas, jewellery and handbags. The women on our small ship-market didn't want to negotiate at all. That was sometimes a small problem, because the things were really beautiful and handmade but they weren't cheap. But it was a really good afternoon with many people on the ship and many Molas and handbags are now our own.
The first time we came to the island, many children were at the beach to say "hello"! We looked through the houses, walked around the streets and they always followed us. Some of them were really young and they wanted to be carried pick-a-bag, but that was no problem for us. After our trip around the small village on the really full-packed island we played basketball with some of the children and we also played many rounds of our Thor Heyerdahl motivation game "Daumen raus". The children loved this game and they wanted to play it the whole day, because it was so funny even without speaking German at all. They wanted us to come back the next day to play soccer and many of us liked the idea so we came the next day with a football and better shoes and played soccer with the Cuna kids the whole afternoon and we also did a small race around the island. We arrived at the island and every child was there to welcome us and it was so beautiful to see that they were really interested in doing something with us.
Our "hunt" after hammocks was also really funny. Ruth and Detlef told us that Nalunega was the only place to buy them. After this information 34 pupils were on their way to find one of the really popular hammocks. Searching them on a small island? No, Problem? No way! We were running around and asking in every house, they didn't have hammocks anywhere. But after two hours without success, there they were! In a small shop somewhere on the island they had some of them and then we asked for more and the saleswoman came with over twenty colourful, beautiful hammocks and all KUSis were happy. After this day it was a problem to find a place to get your hammock fixed, which hadn't been a problem before.