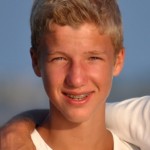 It was probably the only hard day of our trip, the day of saying goodbye. After having spent the night on the Thor Heyerdahl or in a hotel with their family, it was time to say goodbye for the KUS-members. Personally, I slept in a hotel and my parents drove me to the Thor. After all the work was done we could prepare the ceremony. At 10 a.m. we started the ceremony where we, the KUS members performed two songs and a short play. For example my project group "Public relations" lead by Nadine performed a play where we acted out the different emotions to express our feelings towards the upcoming trip. We had a lot of fun, and everybody laughed a lot, even though the weather wasn't nice. Maybe the sky cried, too, about the sad event.
After that some project groups presented their theme. Not only we, but also our parents had a surprise for us. They sang a wonderful song with many great wishes for us, like "have a good trip", "come back healthy" and "have a lot of fun"! Hearing this song was very emotional. Some KUSis started to cry but we were strong. But in fact, it was very difficult not to cry.
They gave us other wishes in a bottle, too, which we will read and I am already very excited to hear their kind words at sea.
Ruth, Detlef, an ex-Kusi and other parents gave a speech on the trip, and I think this can help us a lot on the upcoming journey. We, the KUS-members performed two songs called "5000 miles" and a song with lyrics written by ourselves. I think we all had a lot of fun and we all enjoyed ourselves.
After this, we did a practice alarm. This was something new to me, because I just knew that kind of thing from school and the actions you perform in an accident at school are not the same as on a ship. Perhaps it was good that the towboat finally came to do the first step of our trip. At this moment a battle of emotions started in me: the joy of making this trip, the fear of the upcoming obstacles, the curiosity and a little bit of sadness. Detlef gave everybody time to say goodbye. This was the hardest point today. It's difficult to say the right words to your family, because they are the last words for the next 6 months. I didn't cry, but I felt pain. After this the towboat took us and we slowly left the harbour. Shortly after that we had a lot of action because we were allowed to set the sails.
This was very strenuous but also beautiful because we saw the Thor with all her sails for the first time! We were also assigned to our new guard duty group until Tenerife. After this, we got our second mission, which consisted in catching up the sails. This was very stressful, too, since this moment we could sense the feeling of sailing. Unfortunately we couldn't really start to sail, but this wasn't a big problem for myself. This is the project, this is what we have to learn. To make the best of what you have. And now we have the possibility to learn the basics about the Thor without getting seasick. Besides, we can explore Kiel, too. There are many thinks you can do. Our first day without a mobile phone, parents or any connection to our home had begun.