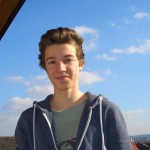 Have you already heard about our internships aboard the Thor Heyerdahl? In fact we have got three different internships here, but we, the students, already had to decide at the wharf which of those we wanted to take. There we had to fill in a list with our first and second preference, because it is not always possible to give everyone the internship he or she likes best. In our case it was not possible for the 34 of us to do his or her internship as a boatswain, because we can do only two out of those three. The first one is usually 3 days long and takes about 5 days, because it is always in alternation with school. The second one is a little bit shorter and just takes about 2 days.
First of all, there is the internship with Willi in the machine. This was the one I chose to do first. Willi has a lot of work to do all day long. The first task you have to do when you are his trainee is to wake up at 6 am and to turn on the generator and the water cleaning machine for the galley, because they need electricity to make coffee or to boil their eggs for breakfast in the morning. After that you are allowed to go to bed again, but not that long, because you have to get up again at 8 am to clean the machine or to make sure that everything is okay. If it is not you have to repair it. From time to time you have some minutes left, so that Willi is able to explain the way the generators or the big general motor work. At 12 am you have to walk around in the ship together with Willi in order to fill in a list with numbers stating how much petrol or water to drink is left in our tanks. After that you have got a lunch break until about 2 pm. In the afternoon you have some time left to continue whatever you did in the morning. If not Willi goes on with explaining. It is very interesting, because you get to know a lot about the way the different mechanical and electrical things work aboard.
The next internship is with Laura as a boatswain trainee. This is a full-time job, too, which starts at 8 am and lasts until about 6 pm. At that time you have to make sure that every part of the ship is okay. For example you have to observe the sails and you are responsible that they work as they are supposed to. On top of that you always have some special exercises, like building the pool on the bow of our ship, hoisting the windward-sail or planning how to lower it. Besides some boatswain trainees had to lower the main sail, stretch the sunsail and sew some tears because of its age or to tear the shrouds to protect them from rust. All in all, it is very funny to work with our boatswain Laura, but it is very demanding. As a boatswain trainee, you have to do everything a normal boatswain also has to do, from sailing equipment to safety, where you have to check the bulkheads, the bilges and the bulleyes.
The last internship is with Frederike and Marta as food providers. Their task is to write plans containing the amount of food etc. we have on board. Often they have to go into the dry store, the cold store or the freezer room to look after the food and to organize the food for the next day or to write a shopping list for the Caribbean. On top of that they have to select the food which will be cooked the next day. Furthermore they have to clean the bilges in which the food is stored. All in all their job is connected with a lot of logistical tasks you have to manage in order to ration the food for the next three weeks, during which we cross the Atlantic Ocean.
As you can see, the internships here on board are a very intense part of our everyday life, but they do also prepare us for the time when we come back home, where some of us have to do some internships for school. They also may help us to find a job in our later life as an adult.