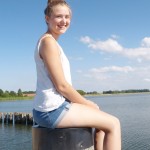 Tents? Feathers? Traditional clothing? Maybe a TV? Or even smartphones? Actually, we did not know what we had to expect when we drove in the rain forest to the Naso tribe. During our journey from Boquete to the Nasos' land, we had a bit of time to think about our expectations. One of my most important questions was in what way the Nasos were adapted to the modern world. How did globalization affect them? Do they still live in a traditional way like their grandfathers and grandmothers, do they still wear a special clothing, do they cook as they used to do hundreds of years ago? I really did not know. It could even be the case that they live like the people in the city. Maybe they live a "normal" life by normal Panamanian standards.
As nobody knew what the Nasos' life is like, it is completely understandable that we were pretty excited and that sitting in the bus and waiting for the arrival in the rain forest was kind of hard. But after a few hours, the road got smaller and smaller, the forest deeper and deeper and our excitement grew bigger and bigger. The first bus in front of us stopped and we realized that we had arrived. We jumped out of the bus and were friendly welcomed by Raul, the Nasos' main organizer. While we put our backpacks out of the bus, the place got more and more crowded. Children stopped playing football and curiously they came to us. When we looked around, we saw many colorful wooden houses and different animals such as dogs and chickens, even three horses and a big turkey. I asked myself, where we would have to sleep, but that question was answered easily as Raul showed us our host families. Separated in small groups, we slept in our host families' houses on mattresses. The houses were bigger and more comfortable than expected, but you could still see that the people living here do not have much money. The families were very friendly and showed us their living places, but soon it was time for dinner and we went to the blue house to eat. There was one more question I asked myself: "What will the food be like?" I had expected many things but nothing as similar to what we got. The food was not served on plates, no, we got our food in calabazas. That is the thick skin of a dried, pumpkin-like fruit, which is formed like a dish. Inside of these calabazas, there was a banana leaf topped with yuca and fish, our food. We drank freshly made cacao, which tasted completely different than the cacao we drink at home, out of bamboo glasses. It was quite unbelievable and a completely new experience which everyone enjoyed.
But that was not the only remarkable thing we did. The next day we wanted to visit the Nasos' king's village and we got there by dugout canoe. A dugout is a boat that is typical for the Nasos. They build these boats one their own out of big trees. We sat in these dugouts and drove up the Teribe. It was a wet experience, sometimes we had to get off the dugout and help the Nasos to transport the boat up the stream because there was not that much water in the river. Therefore from time to time we got stuck in the river and then we tried to go on, which was very funny.
Another very important and great adventure we had was the football match against the Nasos. One evening, we put our sport clothes on and walked to the huge place where we had practiced football before. And then the game began. The boys gave their best, they ran and ran, they shot and shot, but in the end, they had no chance and lost 9-11. Later, we went to bed, very tired.
The next day, we made a trip to a great national park and had a walk through the rain forest. It was pretty interesting because I saw a Rexo-Monkey in wildlife for the first time. The temperatures in the forest were very high and humid and we were all happy when we walked back to the camp and had to cross the river Teribe. The water was wonderfully cold and when we put on our shoes on the other side of the river, we were all refreshed.
As the sun went down, we organized a farewell night. Everybody met at the place where we had arrived a few days before and the Nasos showed us one of their traditional dances. We were even invited to join this dance and so we all stood there together and danced in the traditional way. But we showed the Nasos some of our traditions, too. We sang a few songs for them and after a short time, the indios sang with us. This evening was great and I was kind of sad when it ended and we had to go to sleep.
Our stay with the Nasos ended fast and we had to pack our things again and had to say goodbye. Goodbye to the houses, to the food from the calabazas, goodbye to the self-made cacao, which was the best I have ever drank, and to Raul and our host families. The time we had was great and impressive. I guess, we have learned a lot and now we know what the Nasos' life is like. Now we know how they manage to maintain parts of their traditional life. We know it very well because we have first hand experience thanks to our stay with the Nasos.
written by Raja