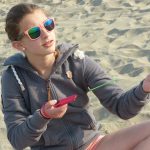 On October 15th in 2016 at nine o'clock you could hear the bell in the mess room. It was the official beginning of our huge and great voyage. But this day started a lot earlier. For me it was 7 am because I stayed with my family in a hotel (we could decide whether we wanted to sleep at our new home, the Thor Heyerdahl, or with our parents). So I got up early and went back to the Thor.  After doing all of the preparation work like cleaning our ship and making sure we have everything we need for our big adventure, it was time to say goodbye to Germany and to our parents for 191 days. There was a farewell ceremony for all of us at 10 am at the Thor.
It started with a shanty named "Santiano" sung by our new KUS-bordship band. Then there were many people , who held some emotional speeches (exKUSis, our parents, from the Thor, Ruth in the name of the university and Detlef as our Captain) and wished us nothing but the best or gave us some advice about our journey. For example the exKUSis told us that if we get seasick and we have to puke, it might be clever to run out of the room and go to the lee side of the ship. After that it was time for another musical performance. A song every KUSi could sing alone. The name is 'Salz auf unserer Haut'. The lyric is about how it feels when you are on a sailing ship. When I looked into the faces of our family members and friends, I saw that they were proud of us, but also scared and a little bit sad to let us go into this adventure. I think our song sounded great and it was a lot of fun to sing together with all KUSis. And then the big surprise: our parents could sing, too! It was a KUS  version of the song 'What shall we do with a drunken sailor'. In the song they described our big journey, our route and which countries we will see with the Thor. Many KUSis were sad because it was the moment of understanding that we wouldn't get back home this evening to our families – only after six months. So you can see or hear there will be a lot of music on board of the Thor Heyerdahl this year. That was the most beautiful part of this morning.
There were a lot of tears by many KUSis because it was the last time to give our parents a hug and a kiss, or to talk with them. The parents of some KUSis could not come to Kiel. I think it was hard for them to see the others with their parents the last minutes before departure. But now we are their new family and we try to help everybody who needs help. And I hope that in half a year we will all be back and see our families again.
Then it was time to go. Every KUSi walked across the gangway with a huge gingerbread heart in both hands. It was a present from our parents. This was the beginning of the process to live our own life without the help of our parents. When I walked across the gangway onto my new home for the next six and a half months, there were a lot of questions in my head. What will be in half a year? What will happened in this time? Will I miss my family? What will life be like on the Thor? And what about the other KUSis, will we like each other?
Suddenly there were seven short and one long acoustic ring. Which signal is that? It was the general alarm. So all hands on deck with life jackets. You have to stand by your watch until everybody is on deck in the right group. This alarm was just a test. Normally it is the alarm for an emergency case. For example if we sink, this alarm will be sounded. I hope we are fortunate enough that this alarm will never be heard again.
There was a mix of emotions during the complete ceremony. We were happy to finally start into the unknown world, some KUSis also cried.
Our voyage began with all sails hoisted. And everybody had to help with hoisting the sails. For me it was hard, because I had never sailed before. So it was difficult to know what to do and how to do it. I hope that the KUSis will know what to do, when to do it, and what the best way is, after six months at sea. But for this first time to hoist the sails, the exKUSis helped us, just for this one day.
Our ship is so beautiful, when all sails are hoisted.
In the evening began our first watch duty. We have to check all the bilges and also that the anchor does not slip. And we have to do the safety round.
Sometimes it is boring when there is not much to do, mostly when we are at anchor. I am looking forward that there will be more waves.
Go fast to sleep, the night will be short.
That was our first day on the Thor; there are 190 days left.