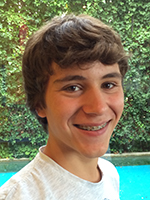 Since we have been on board the Thor Heyerdahl we have had to do to our sentry duty. However, since we left Tenerife we are also attending school lessons. On one day we have sentry duty and on the other day we have lessons. Almost as "normal" pupils. The school day starts at 7:30 am. We can have breakfast and we can prepare ourselves for the lesson. That means that we search for the calculator and pencils in our boxes. At 8:30 the first lesson starts. Almost every time the lesson is on deck. Only when it is too windy or it starts to rain we go down into the mess room. The teachers teach us about the same content that we learn in our usual schools in Germany. But there are big differences! Not just that we are only on a ship on the high sea – in the lessons we also do more teamwork and presentations then most of the pupils did in there school at home.

On board the teachers teach the subjects mathematics, physics, German, geography, history, chemistry, Spanish, biology and of course English. On top of that we chose one extra subject. We had to choose between astronomic navigation and English conversation. Most of the pupils chose astronomic navigation because when we take over the ship we can only navigate with a sextant. That means when you want to be the captain you have to measure very precisely and that needs a lot of training. On the days when we don't have school we have one and a half hour free working time. This is time where we decide which subject we want to do and which task. That can be work of a lesson or something from the school at home. In addition to the lessons with the teachers every pupil has to prepare a presentation about a topic which is connected to our journey. We already listened to some presentations. One half is on board and the other half is on land. For example: in Güímar we visited the Thor Heyerdahl museum and at the beginning one pupil told us something about his life, his expeditions and about his investigation. With this knowledge it was much easier to understand the exposition in the museum.
The school lessons are very interesting and they are a welcome contrast to the daily life on board.