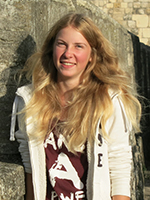 In the morning of the 13th January I woke up and it was the first time after months that I was alone in my room. Normally, you have to share your room with three or more friends. Then I remembered that I was in my host family in Boquete.
Suddenly, someone knocked at my door. It was my host-mother, who told me that my breakfast was ready and that it was on the table in the living room. It was a typical Panamanian breakfast with hojaldra (fried bread) and a cream of sweetcorn. I was very surprised that I was sitting alone at the table because the host-mother didn't eat with me. She went again into her bedroom.
At 7:30 am I had to be at our Spanish school, but my host family had another feeling of time ;). So at 7:30 am I was still waiting for one of the yellow taxis, instead of sitting in the classroom of our language school.
When I came back from school, where I had learned a lot of new Spanish vocabulary and tips for communication, I was very confused because in the house of my host family were so many people I hadn't seen before. I couldn't say who is part of my host family and who not. The only thing I knew was that my family consists of seven kids (which I couldn't separate), my host-mother and a father. But about the other four people I wasn't sure if they were also living in the house. So don't wonder if you don't know who is part of your family and who is just visiting – that's normal.
Another difference to Germany was the water in the families. You ask why? They just had cold one. In the evening when it was colder in Boquete because of the wind and the disappeared sun it wasn't always such a funny thing to take a shower because you were only freezing. So some of us (me included :)) decided to wait with the next shower until we were back on the Thor seven days later.
Of course the food was also different to the one we know. In my host family I got a lot of cook- bananas, which are a typical Panamanian meal. On top of that they often ate rice with beans and chicken. The drinks were also very special. One day I got a milk with rice and the other day a hot chocolate with two TABLE spoons of cinnamon and sugar.
All in all the greatest experience for me was that you can communicate with the people although you are not really able to speak Spanish and that you can learn so much Spanish in just four days. At the beginning when my host-mother asked me something I was just smiling and saying 'Si, si' and when I had a question I had to express what I meant with my hands and feet. That was always very funny. After our intensive Spanish lessons it was much more easy to say what you want and you could have a real conversation with them.
On Monday we had to say 'goodbye' to our families. I was a little bit sad that the days had passed so fast because it was a really nice time, but on the other hand all KUSis are together again and you do not wake up in the morning and wonder why you are alone in your bedroom.