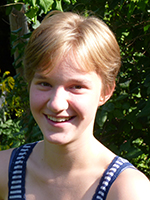 After our stop on the Bermudas our journey back home went on and we got to know the North Atlantic like you normally imagine it with storms and rain.
At first the weather wasn't as bad as we thought, of course it was colder than in Panama or Cuba but nobody minded because we all knew it would be like that.
As time went by those who looked on the weather charts in the navigation room could see that an area of low pressure was coming towards us. And then on Sunday Detlef explained to us how it works when we lock down the ship completely because it was possible that we would have to do that the following day.
And so it was. Now you may ask yourself what it means to lock down a ship completely. It means that when the weather is very very bad with a wind force of eight Beaufort, then everybody who goes outside has to wear a safety harness and oil skin because some waves even come up to the poop deck. In the messroom there is one handheld radio with which you can communicate with the people outside to help them to get inside or helping them to manage the navigation outside. Another important point is that everything is closed, all bulkheads, all lids and all bulleyes are closed.
So on Monday it really was time to lock down the ship completely but we did not only have to deal with this we also had to write a history class test in our messroom. While writing we were sliding around and some were even seasick again. In the evening one weather front also passed us and we had stormy wind up to a wind force of nine Beaufort and a strong rain. But after that the weather got better again and the wind got less and less again.
Now we get to know a very different side of the North Atlantic, because we are in an area of high pressure and now we often have a wind force of only two or three Beaufort, so after we know how a real storm is, for us it seems as if there wasn't any heavy swell at all.
While we had this bad weather we started to pass our free time in the messroom again. We also got out the games and everybody started to crochet hats.
All in all I would say crossing the Atlantic Ocean in the North sometimes was quite difficult especially because of the seasickness but now we can say we really know the Atlantic Ocean, the comfortable part and the stormy and rainy part.