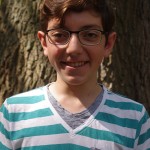 During our voyage, we do not have only lessons, sentry duty, galley work and all the other nautical tasks. We also participate in the so called projects. These are groups organized by teachers and crew members where they do special work together with the pupils. This year's project groups are the one of international food called 'Culinary trip around the world', the photographers, the group which does the work of PR, the choir 'Thor-Worms' and one group which learns about old nautical traditions and nearly everything that goes in a row with these. Before our journey started, we could chose our prefered one(s). My favourites were the choir and the project of public work and now I am happy with my project.
I take part in the project of public work. We write texts, articles and reports for different papers and blogs where we report on our project 'Classroom under Sail', about our live aboard the Thor and all the other things that happen in our daily live on the ship. Once a week, on Fridays, all the groups meet and we talk about our progress of work and about the tasks that still have to be done.
Besides the work during our journey, every group also wants do create a special product which should be finished when we reach the Azores. Each 'team' had the chance to think about the kind of product in a special meeting. Afterwards every group presented its plan to the whole crew. All came up with very interesting ideas to create something which should remind us of our legendary time during the voyage, although it is not easy to find something very creative beause the students of the last years' journeys had already have many ideas.
The musicians plan a collection of all the songs and other cultural products that will be produced in the next months or that already have been presented. Maybe they want to record these contributions and create a CD. The PR group and the photographers work in cooperation and plan a book with an overview of every person that is part of the Thor crew while we sail to Central America and back to Europe. Every crew member should get his or her page with some information on the person itself and with a text about him or her, written by the closest friends aboard.
All in all it is a lot of work we have to do until our products are finished but we also have many tasks between the meetings. Our project group for example writes texts and during our meeting on Fridays, we talk about these articles, comments and reports and correct them so that we can send them to some newspapers that publish an article on 'Classroom under Sail'. The 'Thor-Worms' rewrite songs for birthdays that take place during the journey and they learn their lyrics and melodies by heart. The nautic project deepens its knowledge on the old traditions and pirates and so on and the group plans presentations it gives once or twice a week at dinner. In these presentations they give us a short overview about all the interesting facts concerning prominent sailors, earth-shattering discoveries and long forgotten traditions. But they also rehearse old shanties they sing at special meetings like the 'mizzen sail sheet on' every Saturday. The photo-project talks about the pictures that have been taken, chose the best ones and they study the digital camera theory and its functions. In the beginning of our journey, they took pictures of all of us and they will also take some in the end. There is a lot to do but still it is a fantastic opportunity to review our time aboard the Thor and it is a good help to remember special moments, of course when the voyage will be finished.
As you can see we have a lot to do but it is lots of fun. I know that our product will keep all the special moments, that we have lived or that we still can enjoy during our journey, in one book. The pictures of the photographers will also be part of our book along with an overview of all the persons aboard. It is a good possibility to see the change in course of time (you should take into account that we are away from home for half a year). There will be a change for sure. And the projects all make the time aboard nicer or help to keep these memories.