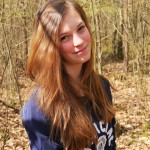 On Monday the time had come, the time for the first lesson here aboard the Thor Heyerdahl. It is a strange feeling to go to school again, after one and a half months of sentry duty, eating and sleeping (at least that was what it felt like). It is also strange to have the nice, cool and funny guys, with whom we have cleaned the ship (even the toilet), had sentry duty in the middle of the night, cooked, laughed or brushed our teeth until we reached Tenerife, now as our teachers. But well, you can't imagine them being teachers at your school at home. The atmosphere is really relaxed and funny.
Another different thing is the management: Only half of the pupils can have class, because the other part has to steer the ship, navigate or check the safety. Everybody wants to eat something, that's why four of us have to work in the galley, too. To learn more about the different jobs on a ship like the Thor Heyerdahl, some of us also do an internship as an engineer, boatswain or as a food provider. As you see, there are lots of different things to do. Due to the separation into two groups, A and B, we only have lessons every second day, for example on Monday, Wednesday and Friday.
The first lesson starts at half past eight, therefore there's enough time to have a relaxed breakfast before. Until lunch at twelve o' clock we have four classes in the morning. After a break of one and a half hours, school goes on, most of the time with Spanish. For us this subject is really important and interesting because we are going to need this language on the Caribbean islands, in Panama or Cuba – in other words: nearly in all countries of our journey. That's why we also have an elective that is called "Spanish Conversation". There we can deepen our knowledge and learn the most important words, questions and dialogs to communicate with our host families or other native speakers. Another elective that is really popular is "Astronomical Navigation". In this lessons we can learn how to determine our position only by using the sun, the stars and a sextant. The third and last elective is "Marine Biology". There we identify wales and dolphins that we have seen, collect and examine plancton or dissect one of the flying fish which sometimes jump on our deck.
Our school day ends at half past five. But this isn't as hard as it might sound for you. We don't get any homework for example. Instead we have an individual working hour, called "Freiarbeit". Every second day we have one and a half hours to revise topics of the last day, study for the next test or prepare for the lessons we have the following day. We all think that it's a good feeling to organize yourself, although it's sometimes difficult to learn the things (or a subject you don't like) you really need.
At the beginning, when the weather was bad, the messroom, which is always really busy, was our classroom. So while we were learning something new about physics, biology or Spanish, the people of watch 1 and 2 had their breakfast, a mess steward brought plates and cups from the galley or someone had to clean the floor under your feet. Since the weather is good now, our classroom really is under sails. The classroom has moved to the main deck with temperatures reaching nearly 30°C. Of course there is always something going on, too. A guard hoists a sail, the ship is moving in such strong way that everybody is busy with preventing his or her things from falling into the water or the wind and the waves are so loud that -even if everybody shouts- you can't understand each other (or just funny parts of the sentences). But even in silent, concentrated moments you can feel the sea splashing around your feet, the wind blowing in your hair and the sun shining in your face. Is there anywhere a better place to learn?! I don't think so, of course.