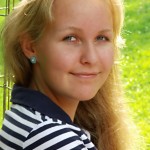 Normally when someone talks about holidays, you hear about things like visiting a metro-pole or going hiking. Our holidays were totally different. We seemed to be in paradise. Lying on the beach, going snorkelling and swimming, jumping from the Thor in the azure water was the program for at least two days. SCHNOBATASO as Ruth, our project manager calls it. That means snorkelling, diving, swimming and lying in the sun.
Of course everyone wanted to go to the reef, but before Ruth, Laura and Frank showed us how snorkelling actually works. They showed us how to breathe using a snorkel and a few tricks for example how you get the water out of your snorkel. And then, finally, we sat in the dinghies and drove to the reef. I was very excited. What would it be like? It was wonderful! I saw many animals, plants and fish I have never dreamed of. But, to be honest, the reef was not as colourful as I imagined. The colours of the corrals were not as bright as you know them from pictures or TV.
Many things we had learned during Lena's presentation about the reef we saw in real life. She told us about different corrals and fish that live at the reef. We also heard a presentation about the symbiotic relationships at the reef from Christoph. It was a little bit like a biology-lesson and one highlight followed another highlight.
After the reef we drove with our dinghies to a spot in the ocean, where many turtles can be observed. When we saw one, we followed it in a distance between three to five meters. They were quite sweet! Later that day we had to go back to the Thor.
The reef was our highlight, but of course we often stayed at the beach and relaxed there reading a book or letters for example. After the normal work on the ship like working in the galley, it was quite a nice change. We just lay around, jumped into the water and explored the island. I enjoyed every minute of it. That were our holidays at the Tobago Cays.
On the San Blas Islands we had the chance to snorkel at the reef again. Here we met an extraordinary fish, the so called lion fish. One night we saw dolphins chasing around the Thor. On the last day we heard Sophie's presentation about the mangroves, Leonie's about mosquitoes and my presentation about camouflage at the reef.
But our all-time highlight was our overnight stay on the lonely island. With our hammocks we built up our night camp. We sat on the camp fire, sang, played the guitar, ate bread on sticks, played games and told ourselves scary stories about crazy Native American Kunas.
Our holidays at the reef were the most exciting holidays we have ever had. When do you have the chance to jump into the Caribbean Sea and see colourful fish from a sailingship?