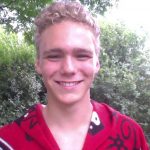 Finally! We are in the Caribbean.
Still, it feels like yesterday when we left Santa Cruz and started our journey across the Atlantic. Our trip started out cold and rainy and now we go topless on watches, sleep on deck over night and we even can jump into the water directly from the ship, of course only when we have anchored. After Palm Island and Union Island we went to the Tobago Cays. This is the kind of Paradise we have all been waiting for: small pretty islands with palm trees and lots of coconuts, beautiful sand beaches and a terrific coral reef.
There were four main activities we could each do on one afternoon in these days: snorkeling at the reef, snorkeling with turtles, kayaking and the beach itself. The island Petit Rameau is nice and small with palm trees and lots of coconuts. Nobody is living on this island and you can only get there by boat. The front side has a nice beach where one can go swimming and maybe even snorkeling. Others might prefer setting up a hammock and slightly rocking back and forth while in the shade of the tree above, listening to the waves breaking on the beach. I might be one of them. You can get to the backside of the island in maybe two minutes. Like I said, small island.
Some of the people from Union island told us about the movie 'Pirates of the Caribbean' and how it was made here and some of them were even in it! Yeah right, I guess we have to find out for ourselves… and we did! Remember when Jack Sparrow was set out on an island to die only having a gun with one bullet? We could see exactly that island from the backside. The two sides are not much different from one another, except for that the backside might be a bit more quiet. I only got to go on the snorkeling trip once because of a wound on the back of my leg that was not allowed to get wet.
For this I needed the so-called 'robo-leg', a construction made out of bandages, Vaseline, trash bags and duct tape. The effort was worth it! Beautiful coral with loads of fish and so warm water. We dove down to the coral to get a closer look and made funny underwater-pictures with Hannah's GoPro.
While resting on our dinghies, Detlef suddenly came out of the water to tell us there was a shark! It is funny that instead of going out of the water everybody jumped in and swam quickly to the area he pointed out and we saw an unbelievably elegant two meter long reef shark. We followed it until we lost it.
Sadly, after the reef we did not have enough time to go see the turtles, but food was waiting and we were all hungry! We all had our lunch break and then everybody decided whether he wanted to stay on the ship or go out and do something. You see holidays are not exactly holidays.
There still have to be at least two people awake and looking after the ship and the people on it, blogs and English reports also have to be written every day and someone has to cook! I would say we deserved our holidays since we got ourselves into this area. It was so relaxing and nice either if it was lying at the beach eating a coconut, taking a walk over the island or simply going watch on the ship looking after all the ones swinging themselves into the water with our self-made swing.
But this cannot last forever: on Monday we will heave the anchor and sail to St. George's, the capital of Grenada, so everybody needs to prepare himself for the upcoming trip. The Tobago Cays were awesome and I am sad we are leaving. I'm sure everybody is looking forward to Grenada though.
I am excited!