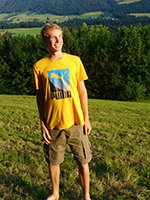 Today all KUSis, Peter, Kai, Christian, Marijke and Detlef went to the Thor Heyerdahl Museum, which is located in Güímar. We went by bus about one hour from Santa Cruz de Tenerife to the museum. As you all know our beautiful sailing ship is named after him, so it is our duty to know what Heyerdahls' life was about. As we arrived at the museum we were welcomed by the museum director and after that we went to the library to hear a presentation about Thor, which was given by Lena, one of our students. I think the information is interesting so that it is not boring to write something about his life.

As Thor was a child, he always explored the animals and flowers in his region. With the years his dream of living without any civilisation became true and he made his first expedition to Fatu Hiva.
Heyerdahl made a lot of expeditions so it is not possible to write about all of them. I want to focus on two of them. The first one is the ,,Kon-Tiki" expedition. Heyerdahl wanted to show with this expedition that it was possible that Polynesia was settled from the East, namely from South America, and not from the West, as the scientists all thought. And Heyerdahl was right, he found some reasons that his theory was the right one. Maybe you think: ok, he reached his goal and now he enjoyed his free life, but the opposite was the case. Heyerdahl made two more expeditions. He crossed the Atlantic Ocean with boats which were designed as the boats were in the time of the old Egypt.
I could tell a lot of more details about the expeditions, but I think the last one is very intersting because our captain, Detlef was a crew member of this one. It was the "Tigris" expedition in the years 1977 and 1978. The journey started in Mesopotamia, along Industal to Djibouti. His intention was to show that an exchange between the cultures was possible. As in the "Kon-Tiki" expedition Heyerdahl was right again. As Detlef told us about the expedition, I felt that he was happy when he could talk with us about the journey. At the end we watched a film about Thor Heyerdahl and visited the expedition ship "Tigris". Finally we were allowed to walk in groups through the museum and made our own thoughts about Heyerdahl.

All in all was it an extremely interesting program and it was cool to see what Thor Heyerdahl and Detlef made in their young life and what connected both persons.