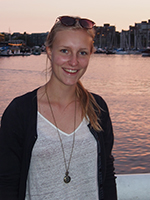 As you all know it's Christmas time now and for almost everyone of us it's the first time in our lifes that we aren't at home. Beside this fact the whole Advent time is different for us, for example the weather, the scenery and our daily routine and that's what I want to tell you about.
Everything started with the first Advent. At home, this would be the time when finally everybody would get a Christmassy feeling and the first Advent candle would be lightened. Usually it's very cold and many people go to the Christmas fair in winter jackets and drink punch. Instead we were somewhere in the Atlantic Ocean, the weather was sunny and we had about 28 degree and nothing seemed like Christmas time. With some cookies and the first Christmas songs we tried to get just a bit of the normal feeling, but it was really strange to sing "Schneeflöckchen Weißröckchen". Many of us had some Advent calendar from home with them and some cabins became a bit festive. Instead of an Advent wreath of tans like home Elli and I made one out of ropes. We also made an Advent calendar for all of us with vouchers which saved you, for example, from one ship cleaning. Beside the Advent calendars and sometimes cookies in the afternoon, we hadn't any Christmas feeling and it was easy to forget that in a few weeks it would be Christmas day.

At the second Advent there was also a scene that we will probably never see in our lives again. In the afternoon suddenly Detlef screamed "whale on port side" and everybody came to the poop deck and then we all saw the great whale. It stayed the whole afternoon around our ship and we could clearly see its head and fins and once it turned around and we were able to see its body. That was a really impressive day and we will never forget this second Advent. At home in the city every shop and all houses are decorated and everyone gets into the Christmas stress because of organising Christmas presents, writing cards and the Christmas shopping. Here we also have some stress but only with getting the right idea for our self-made "Wichtel" gift and writing letters for our family and friends at home.
At the third Advent we were as Bene wrote at the reef and that was also a really great time. The next week we came to Grenada and beside some Christmas trees in the supermarkets there wasn't any Christmas feeling in the air.

At the fourth Advent we finally left St. Georges and started our next trip to Panama. So we celebrated Christmas eve and the Christmas days at sea. That's the first big difference of our Christmas 2014. The last years most of us celebrated with the whole family and relatives and on the 24th everyone prepared the Christmas eve, decorated or helped in the kitchen. Even here we celebrate with our family, but just with our new KUS-family. We had a Christmas galley team and some pupils decorated the main deck. We have a plastic Christmas tree on board and a lot of garlands. We students were all very happy when we saw the "card garland" which contains pictures and cards from our families. At five o'clock in the evening the whole crew met at the poop deck and our Christmas celebration started. Everybody had taken a shower and tried to look quite normal with clean clothes and a lot of girls even wore a dress which was hidden the last two months at the bottom of their bunk. We sang some songs and Detlef read out greetings from the Thor Heyerdahl office and Ruth and also a Christmas story of Ringelnatz. Then we all got a Caribbean drink and cheered to Christmas 2014. After that we went to the festively decorated main deck and the dinner was opened. We had really great food which was delicious. During the evening we listened to some poems and opened our "Wichtel" gifts. We also had a play of the Christmas story, but it was spontaneous and so it was really funny. At last we read the Christmas story on the poop deck with nothing but the light of a flash light. After that the normal sentry duty routine started, but many of us went to their beds and read the Christmas letters from home. However, we had to sleep soon because half of us had school lessons on the next day.

So, it was a really different Christmas for all of us and we will never forget it and we were all very happy to take part on it even though we missed our families and the cosy Christmas ambience a lot.