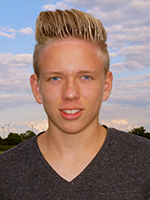 After 6 ½ months, 189 days and 4536 hours, after meeting many new friends and a long time of distance to our home, it's time to come home again. We made many experiences and learned a lot for our life…but now a very great time has passed by. Our trip through the world is coming to an end and we will return to our port in Kiel.
On the 18th of October 2014 we said goodbye to our families and friends for the next 189 days. We started our trip and sailed from Falmouth to the Caribbean Sea, over Panama and Cuba back to Germany.
Since the second time in Falmouth it's all different: The students got the control over the three – mast topsail schooner Thor Heyerdahl and plan the next few days together with the project manager.
The captain and the first and the second mates are hoping to get better weather than now. After a long time with the engine we were able to sail under all sails, the last time with these people on this ship in this area and with this feeling. Seeing Terschelling was really like a flashback, you were reminded of your first anchor watch in your life. Being alone on the poop deck with somebody else, making safety rounds and weather and position.
The master of provisions makes the menu for each day so we get very delicious food. For example, Philadelphia cake, salmon and wraps, so it's not a reason any more that coming home is good because of the food. Laura bakes every morning fresh warm rolls and everybody loves them. Raisin rolls, onion rolls and cheese rolls. Those things are all reasons why we students like this time. But not only the food is a reason why these last days of our journey are so good. It seems like everybody enjoys the last time on the ship.
They smile all the time and we are all motivated. We know that the trip is almost over and we just want to do everything a last time, because in four days we don't have the possibility to do it again. For example, cleaning the floor or working in the galley. When we are at home again we can't do all these things and we will all miss the time and the work on the ship, sometimes it is hard, but that prepares us for real life.
On the other side, we are all happy to see our families again. It was a really long time we didn't see each other and we learned to live without them. Now we can organize our day on our own and yes, we get older. It's really good to know that in some days you can see all your friends again, even when the new KUS family is a good substitute. They are still people you are missing in this long time. We are all remembering a famous sentence from our last "Besanschot an": To that what was, to that what is, to that what is going to be and to that what stays!!!
I think the KUS family will always stay in our hearts and we will do really a lot together. We had so many experiences together and even when our journey is over, there is still much to do together and we will meet up as often as we can!