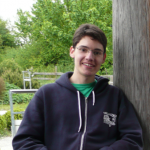 At last we made it! We reached the North Sea. Everybody was happy and at first it looked like it was going to become a smooth trip to Falmouth, where we intended to refuel before starting our trip to Tenerife. But everything came different and one day later the swell had become much higher causing a large number of us students getting seasick. Anyway, a lot of us got used to the ship's movements and the number of people being sick decreased. When we reached the Dutch territory a helicopter suddenly approached and stayed with us for a time. Of course everybody was excited and in no time there were dozens of theories why we were followed. Was it the police wanting to make a routine control? Was it the coast guard following us because we were losing oil? In fact it was a helicopter of the coast guard but it only wanted to use us as a part of an exercise flight. Nevertheless it was very interesting to see how accurately they could drop and pick up people on the poop deck.
On Wednesday 28th October we then reached the English Channel. As far as I'm concerned I hoped the swell would get lower due to the land on both sides. Unfortunately the opposite was the case resulting in a second wave of seasick, including me – a very unpleasant experience.
But there is more about the English Channel than seasickness. Because of the high traffic density it's a good area for learning everything about navigation lights and how fairways and dangers are marked. Thanks to good winds we could even sail without the assistance of our engine for about one day – a great feeling. You hear absolutely nothing except the waves splashing and the seagulls squawked. But we had no time to lose and soon the engines' monotonous brrrrrr filled the whole ship again.
At last, on 1st November, we reached Falmouth, a cute little town located in Cornwall in the South-West of England. After cleaning the ship we had visitors from the "Tall Ships Association" who stayed with us for lunch. Then we went ashore. Of course, on a Sunday, Falmouth was quite quiet but, despite of that, very interesting. Especially the area around the marina with its traditional maritime buildings is worth visiting. And now a personal recommendation: Everybody who likes Fish and Chips I would suggest to go to "Harbour Lights", a very good choice in my opinion.
The next day we went to town again, now with all shops opened and, most important, since most of us didn't have any Pounds, with a post office where we could change our Euros. Now the question is what to do with your money? Well, the most of us went straightaway to the next Tesco where they bought tons of sweets and, with the money left, Fish and Chips could be afforded. After lunch we left Falmouth and the North Sea, heading towards Tenerife.